A pair of Fort McMurray baseball stars have made Team Alberta's U17 Boys Squad.
Adam Canete and Justin Breen, both of the Midget 'AAA' Oil Giants, are off to Moncton, New Brunswick next month to take part in the 2018 U17 Baseball Canada Cup.
Breen will be making his second appearance on the National stage after lighting it up for team Alberta in 2017.
Last year, Breen electrified for Alberta, helping lead them all the way to a semi-final appearance against team Manitoba.
He's hoping his experience will shine through and he and Canete can help put Fort McMurray baseball on the map.
"Just the same as last year, I got a call from the head coach that I'd be making the team and I'll be playing first and third base. Obviously, I was excited as I was last year and I know a little bit more what to expect now. I am looking forward to playing with Adam and all the other players that were selected."
Canete, who plays first base, tells Fort McMurray News he feels this is a sign that all his hard work has paid off.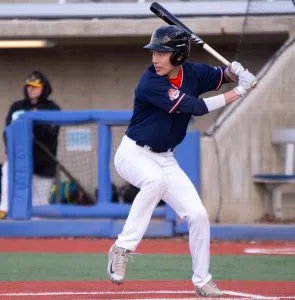 Adam Canete at the plate — Photo courtesy: Brodie Evans
"I had a mini-celebration down at the gym, it was really exciting. I feel like I haven't always been at the top of every team I've ever been on – I've never been 'the guy' and it's good to be able to prove to people that I can accomplish these things."
Canete says he is excited for the opportunity to represent his home province.
"It'll be my first time playing in any kind of tournament like this. My entire baseball career has been just here in town and hopefully, I'll be able to make something happen down there and it'll be a good time."
If there's one thing that Breen would like to see – it's a better finish for Alberta than the one in 2017.
"We want to compete obviously. Last year we lost out in the semi-final and missed out on the gold medal game. This is a chance for us to get back out there and hopefully go for gold."
The championships run from August 8-12
Peewee Giants Off To Spruce Grove For Western Canadian Girls Championship
Taylor Breen (left) and Sidney Barry.
Meanwhile, a pair of Fort McMurray Oil Giants are also off to represent Team Alberta at the U14 Western Canadian Peewee Girls Baseball Championship.
Sydney Barry and Taylor Breen have both made their mark for the Peewee Oil Giants and now they get a chance to show off their game on the national stage.
Taylor, who describes herself a passionate power hitter, tells Fort McMurray News she found out she'd made the team from her dad.
"He said 'I just got off the phone with Chris,' – who's the coach and he said 'you're not quite right for the team and not quite ready'. Then I thought I didn't make it but then my dad said 'just kidding – you made the team.' I was just out of words."
Sidney, a self-proclaimed contact hitter and reliable defender, calls her dad Dion one of her greatest baseball role models.
She says it was also her dad who let her know she made the team.
"I couldn't believe it, I was so happy. I read the email and it said 'we would like to offer your daughter a spot on the team'. I was just sitting down thinking, 'oh my god – this is crazy – I can't believe it.'"
Sidney adds she's looking forward to the experience and getting to know her teammates.
While Taylor, noting her and Sidney are a pair of the team's younger players, they are looking forward to learning from those older ones.
"Probably going to be a pair of the younger players on the team because we are 2006 and most the kids are 2005 and 2004. So, I am just hoping to be a positive part of the team."
The championship takes place in Spruce Grove – from August 16-19.