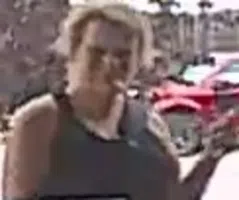 Wood Buffalo RCMP is asking for your help identifying a woman who allegedly stole parcels from the doorstep of a home in Timberlea.
Officers responded to reports of the mail theft around 11:00 p.m. last Wednesday evening.
Police say surveillance footage captured a woman taking the packages from the home.
The suspect is described as medium build with blond hair pulled back in a bun. She was seen wearing a black sleeveless summer dress, sandals while carrying a black cross-body purse and a blue carry-on bag.
Anyone with information is asked to contact Wood Buffalo RCMP.